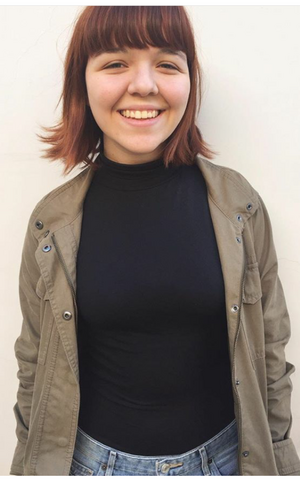 Lily Zella Jackson (b
orn April 6, 1998) is an United States American child actress. She is best known for her role as Gracie, the ten year old daughter of Chuck Darling (Kelsey Grammer) and Kelly Carr (Patricia Heaton) of the sitcom, Back to
You 
and for her recurring role as Poochie McGruder in Disney XD's
Zeke and Luther. 
Currently she resides in Los Angeles where she posts popular vines.
Lily Jackson
Born
April 6, 1998 

(1999-04-06)

(age 17) Burbank, California, USA 
Occupation
Actress

Years active

Role

2001–2014
Biography:
Edit
Prior to playing the role of Gracie Carr on FOX's sitcom Back to You, she appeared in several shows including: Buffy the Vampire Slayer, According to Jim, Medium, Unfabulous, and My Name is Earl.
She does vines.
She has a younger brother called Becket.
She loves Art.
She likes John Green books.
She used to wear braces.
She did Musical Theater.
She likes to spend time with her family and friends.
She likes Iron Man.
She loves going to the beach.
Her middle name is Zella.
Her Mom's name is Jools.
She has traveled to London.
She loves reading.
She has a pet dog.
She lives in Los Angeles.
She was only four years old when she started acting.
Her star sign is Aries.
Filmography:
Edit
Year
Title
Role
Notes
2001
Buffy the Vampire Slayer 
Witchy Poo
"All the Way"
2004 
Envy 
Nellie Vanderpark
Film
2005
Medium 
Ashley
"Night of the Wolf"
Stacked 
Child #2
"The Ex-Appeal"
According to Jim 
Student #2
"The Race"
Unfabulous 
Scarlett
"The Job
"The Dark Side"
2006
My Name Is Earl 
Celeste
"Made a Lady Think I Was God"
2008
Back to You 
Gracie Carr #2
Main character
2009–2012
Zeke & Luther 
Poochie McGruder
Recurring role

Disney XD Original Series

2014
Cindy
Tuesday  
TV Series